"Smell the Leather"
Jenny and Jim Mclaughlin have run Court Leather for eight years now and they couldn't be happier with the way business is going. Having always had a passion for leather the logical step for this couple was to run their own leather store in The Reindeer Court, Worcester. The business has been operating for eighteen years all together and boasts an array of dedicated repeat customers. This is a point of pride for the owners, their loyal customers really do have every faith in their quality products and friendly service.
Unmatched Prices
Jenny and Jim offer a wide selection of products and with ongoing reductions on many of their Jacket lines you won't be able to beat these competitive prices anywhere else. They often get feedback from customers explaining that the best deal is in store, they cannot be beaten online, which really is unique in this day and age. For those of you who are forever trying to find a better deal online I couldn't be happier to announce that this shop really is making it easy for their customers to get the best deal around. In this case ladies and gents, there is no need to scour the web for a better deal as it is waiting for you in store at Court Leather, meaning you get your items on the day of purchase, no waiting for your goods to be delivered when buying from this savvy business!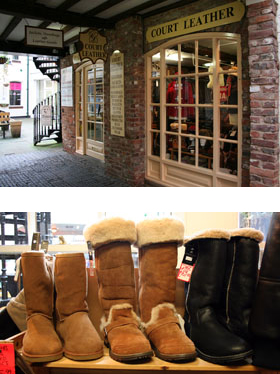 Only The Highest Quality
As Court Leather is a family run, well established business and always has a wide range of leather goods on offer, they only source their products from well established manufacturers around the world and this is always personally relayed to their in store customers. Offering items such as handbags, briefcases, purses and wallets, belts, gloves, sheepskin products, rugs and outdoor wear there is something for everyone.
Take me to Court Leather's website here.
Email Jenny or Jim at [email protected]
Opening times:
Mon-Fri: 10am – 5pm
Sat: 9.30am – 5.30pm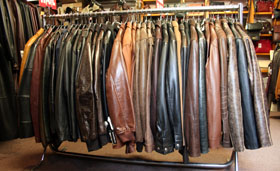 Wide Range of Leather
With a plethora of designs, from young and trendy to mature items or even if its classic leather you are searching for, don't hesitate to stop by your local leather store, Court Leather, where there really is a leather wonderland awaiting you.
"When I first walked into the shop I could smell the authentic leather smell that Court Leather's customers know and love, which is where their motto "Smell The Leather!" comes from, and it really does reaffirm how good their products are, enticing leather enthusiasts from all around Worcestershire into the shop. As it was my first visit to the local shop, I really didn't know anything about leather before Jenny taught me. I have learnt that there are different types of leather and at Court Leather they only use the "Nappa" variety, which is derived from sheep and is used for its superior quality for items such as clothing and handbags. Nappa is much softer and feels more comfortable than the alternative, hyde leather. Customers can be sure they are getting the best products around."