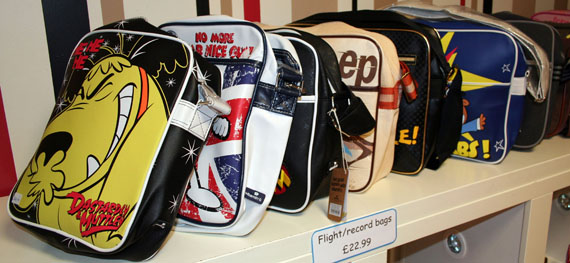 Hanging Around at Monkee Business!
Monkee Business is really the dream shop for anybody that loves retro merchandise, many old school cartoons are featured, such as "The Wacky Races", "Count Duckula","Star Wars" and even "Rainbow". There is more merchandise stocked than you'll know what to do with including; handbags, t-shirts, posters and mugs, along with much, much more. My personal favourite is anything "Penelope Pitstop" related, whereas Annie just couldn't resist the "Back To The Future" Mug, retailing at £5.99 with matching coasters for only £2.99(or two for £5). What could possibly be better than a lovely cuppa in a retro mug with its own matching coaster? No? Maybe that's just me, I do love matching things. The next time you are in town take a trip down memory lane and pop into Monkee Business, you'll never know what vintage gifts you might find for your loved ones or even yourself!
[symple_column size="one-half" position="first"]
"On one chilly Thursday afternoon in February, I found myself wandering through Worcester's Reindeer Court in the town centre, and as I was trying not to freeze on the spot I noticed a quaint shop that I had never seen before. I soon forgot about the cold and rain and I became excited to explore this new shop. I popped in and found a haven of retro gifts, clothing and VW Memorabilia. I had a lovely conversation with the friendly owner of the store, Antonia Henson, who likes to be called Annie. The friendly service in this shop really is second to none and I know I will certainly be regularly frequenting her shop looking for vintage gifts."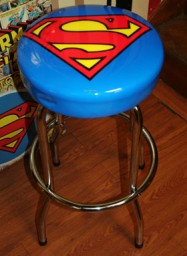 Contact Annie on 07591612063 and check Monkee Business out on facebook here.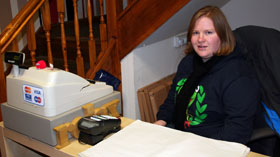 Monkee Businees
27 Reindeer Court
Worcester
WR1 2DS
[/symple_column]
[symple_column size="one-half" position="last"]
Starting off in the Hopmarket and then moving along to New Street, Worcester, her customers started growing and the shop became a real hit. Annie just loved that her customers would return again and again but since relocating to The Reindeer Court, is missing some of those highly valued customers. She would like to let you know Monkee Business is now in the Reindeer Court, in a bigger shop and has lots of new products for you to come in and find out about.
The new range even includes Superman/Batman Bar Stools that are a bargain at only £49.99! Annie is hoping in the near future to expand into the second floor of her current shop and create a retro gaming arcade, which is another of her passions, and hopes to feature Pacman and classic Shoot em' up games Galaga and Galaxian.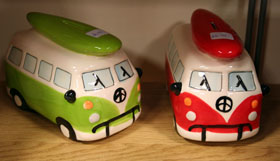 Annie, who used to be a bus driver before really going after her dream of owning her own vintage gift and clothing shop couldn't be more pleased with the great response she has received from her regular customers. Having started her business by travelling around the country setting up stalls at festivals, in particularly the VW Festival along with many other music festivals, she felt confident about opening her shop in a more permanent location.
Annie is just passionate about all things VW and really feels that her store is an extension of herself, and in her own word's "It's my hobby gone wild!" Even on your first visit its clear to see her passion for the products she sells.
[/symple_column]